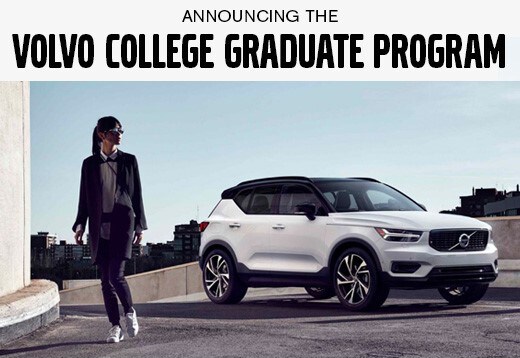 You've worked hard to earn your degree. Now the Volvo College Graduate Program can make it easy for you to drive a Volvo. With flexible and competitive financing options available for graduates, Volvo Car Financial Services can help you into the world of Volvo with only a 5% down payment upon credit approval!
Here's what you need
College Degree: You'll need to show proof that you are, indeed, a college graduate. Be sure to have your degree, or other valid proof in hand.
Proof of Employment: In order to lease or finance a vehicle, you'll also need to provide proof that you'll be able to make monthly payments. All recent graduates will need to proof of employment (or proof of other revenue stream) in addition to your college diploma. You may still be searching for your perfect job, and we understand that! In terms of employment, even a seasonal or temporary job will often suffice. In lieu of proof of employment, Volvo's College Graduate Program will also accept what it considers a "reliable source of income."
Limited credit history? No co-signers? No problem!
Volvo understands that college grads might not have a lengthy credit history and might not have favorable credit. It's why the College Graduate Program doesn't put a huge emphasis on credit history, and is designed simply to get college grads into the new Volvo that you deserve.
Please call for details.
Hours
Monday

9am - 8pm

Tuesday

9am - 8pm

Wednesday

9am - 8pm

Thursday

9am - 8pm

Friday

9am - 6pm

Saturday

9am - 5pm

Sunday

Closed
See All Department Hours
Dealership Hours
Monday

9am - 8pm

Tuesday

9am - 8pm

Wednesday

9am - 8pm

Thursday

9am - 8pm

Friday

9am - 6pm

Saturday

9am - 5pm

Sunday

Closed
Parts Dept. Hours
Monday

7:30 AM - 5:00PM

Tuesday

7:30 AM - 5:00PM

Wednesday

7:30 AM - 5:00PM

Thursday

7:30 AM - 5:00PM

Friday

7:30 AM - 5:00PM

Saturday

Closed

Sunday

Closed
Service Dept. Hours
Monday

7:30 AM - 5:00PM

Tuesday

7:30 AM - 5:00PM

Wednesday

7:30 AM - 5:00PM

Thursday

7:30 AM - 5:00PM

Friday

7:30 AM - 5:00PM

Saturday

Closed

Sunday

Closed